Show Posts
This section allows you to view all posts made by this member. Note that you can only see posts made in areas you currently have access to.
Topics - S8 ESX
Pages: [1]
1
« on: December 31, 2015, 10:53:01 PM »
Just want to you all a happy new year, full of happiness, good health a prosperity 😘


3
« on: December 07, 2014, 09:46:15 PM »
With it being a festive time of year, I thought we could put some pic's up of our tree's
We only have a modest tree but it's good enough to start us of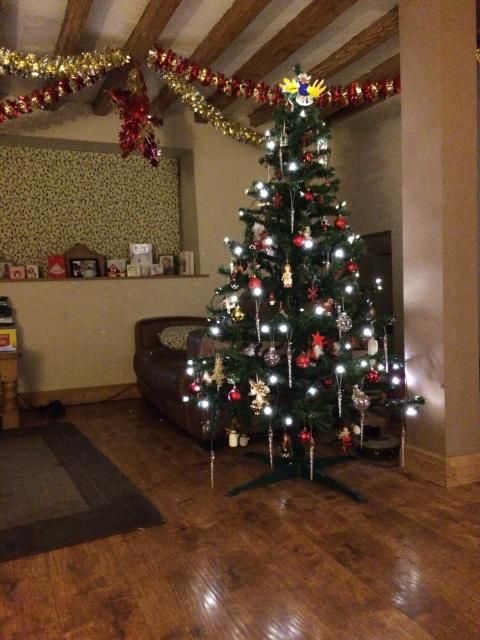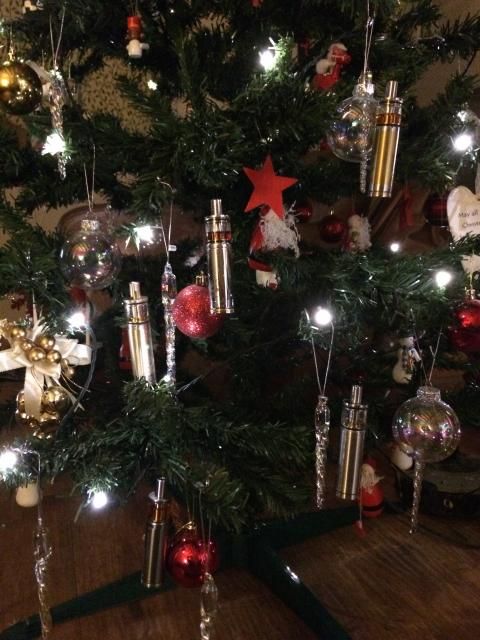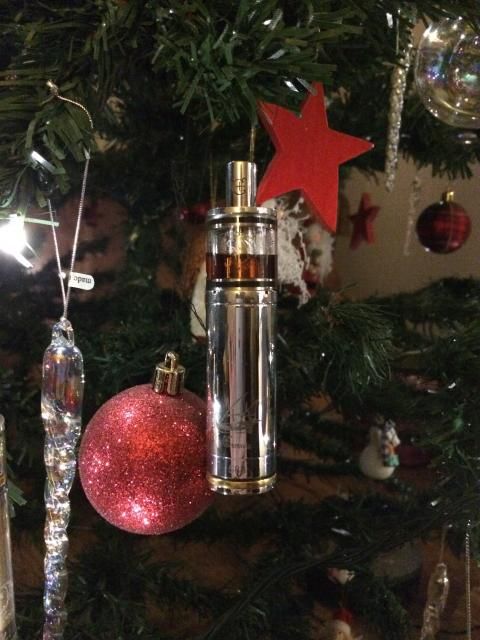 Hope you like, Merry Christmas All
4
« on: October 23, 2014, 09:59:13 PM »
Had parents evening for my daughter tonight
. It was brilliant, she is not an academic, I am far from one. but is always listening, applies her self, works methodically and is trying hard and is thoughtful to others in nature . That is all I will ever want from her so I am really pleased
Just wanted to share it really
5
« on: May 04, 2014, 11:27:32 AM »
The other day I melted a delrin drip tip
so I want to find another one. For some reason I can't find what I want (perhaps I can't see the woods for the trees). the one I melted was a true flow tip, which I really liked anyone got any suggestions
cheer steve
6
« on: April 17, 2014, 10:20:04 PM »

Just a note to say that my thoughts and prayers, go to the people on board and there families of the South Korean ferry disaster. May god be with you all.

Steve
7
« on: January 25, 2014, 11:05:56 PM »

Vape plans for the new year:

Have no plans really for non Caravela items, at the moment. nothing grabs me.

I would like to discourage all flipping and clone buying though.


8
« on: November 09, 2013, 03:51:25 PM »

Can anyone say if they have vaped in the Dominican Republic, I am going there in February for a wedding and really want to take some stuff with me.

cheers steve
9
« on: October 19, 2013, 10:13:29 PM »
Just a warning to everyone, when filling Attys up with a syringe, ensure the needle is screwed on properly OR were goggles. Juice BLINKING stings when you get an eye full of it.
luckily I washed my eye out quickly. But I could not have aimed better if I had tried
10
« on: October 19, 2013, 01:31:35 PM »
Been thinking of a way to thank Obeyone, apart from just saying thank you. as he sent me a SS 18350 GP on Monday. I had shown interest in it, as he was selling it, little did i ever imagine that he would send it to me without excepting any payment for it. I was initially quite embarrassed by the offer, but he refused anything for it and said he would pack it up and send it over which he did very quickly. I will say I have a thing or two up my sleeve, so watch out mate
I just want to say
A Big thank you mate
and thank you for the friendship that we have built over the last few months or so. and I should extend this thanks to all of those that keep the forum going for us and the other friends that I know that we have made on here.
Cheers my friends
Steve
11
« on: May 20, 2013, 05:31:05 PM »
Thought it would be interesting to see what people like in there coils.

If using silica 1.3-4 ohm 0.25 kenthal

SS mesh 1.2 ohm 0.30 kenthal


12
« on: May 13, 2013, 11:24:19 PM »
Hi All
Is anyone into mixing there own juice, i am just about to make a mix. My last one was - lemon, lime with a touch of sweetener very similar to Ecto Plasma I have just made 100ml with a hint of mango, this time. and a 100ml of Desert Ship, this was the juice that started me Vaping and off the cigs.
what do other people like to mix
Steve
13
« on: May 01, 2013, 05:58:52 PM »
Hi all, Just a quick one really. I have just said welcome to someone and found my self rambling about how calm this forum is.
Quote:
"Welcome to were the sea's are always calm. Don't know why I typed that comment, thinking about it, I think that's what I like about this place. no squabbling and peeps always appear to respect others views weather they agree with them or not."
This is how I have found the Vela forum anyway, and I did wonder why, what is it that this place has got? I was thinking about it, I try not to do this to much it hurts, and thought, its probably, well not probably, it is down to Pedro's & teams, philosophy's that brings this calming influence. Some sites, have bickering over the slightest of things and mountains made out of mole hills, not noticed that on here. Life is far to short for that so I tend to stay clear.
Anyway that what popped into my head, some people would say that's a miracle in its self
.
Steve
14
« on: April 22, 2013, 08:55:44 PM »
I hope you all don't mind me sharing this with you. I did post this for a short period on another thread but felt it as not appropriate. My dog and best mate Chip has passed this morning away after a battle with cancer. The children have coped very well considering, I think better than my wife and myself. To be honest I don't know why I am writing this as I don't really know what to say. Perhaps its a release, or a way of dealing with it. I don't know? I have not even been a member on here for very long. He had a lovely nature, my daughter, Elicia learnt to walk on him, he never moved suddenly and guided her around the room. the cat used to beat him up, he never once went back at the cat in anger. He once knocked my son over by accident, Luke age three at the time he never did it again he, he immediately looked over him with such care like a big brother. He used to think he was a puppy still, trying to sit on peoples laps especially mine and my wife's, with the children he would just rest his head on there laps or let them snuggle up to him on his bed. sorry for the babbling, I am just writing what's in my head at present, and sorry for the low tone of this post. But I feel I have lost a best friend a son and my companion all in one, he was my shadow.
Some more recent Pic's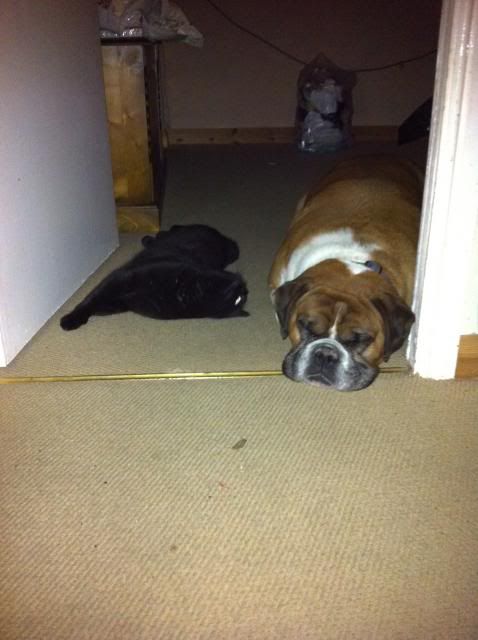 He was well known in our village for taking himself for a walk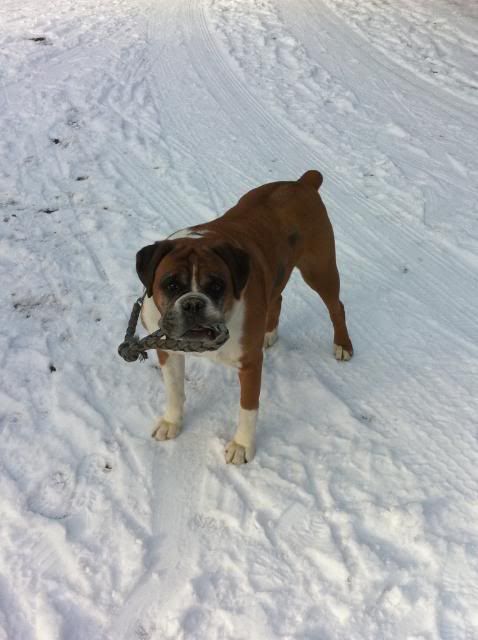 He used to sleep in some funny places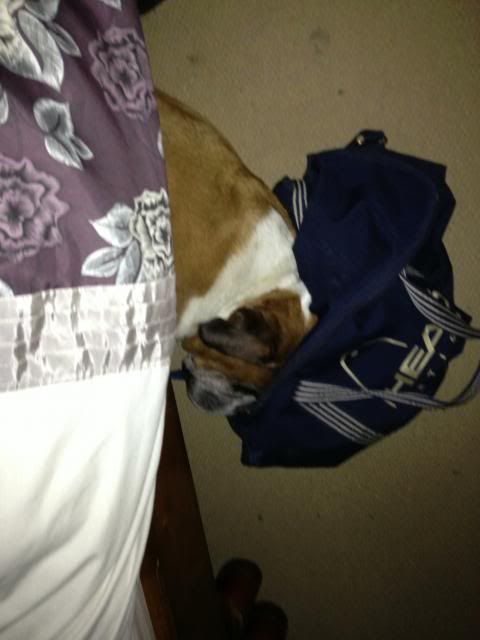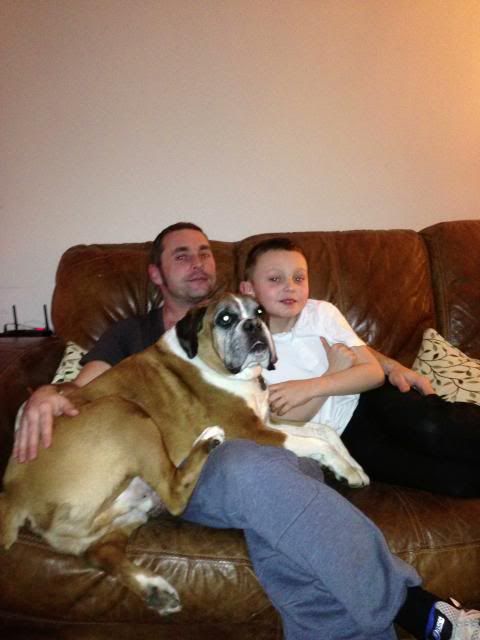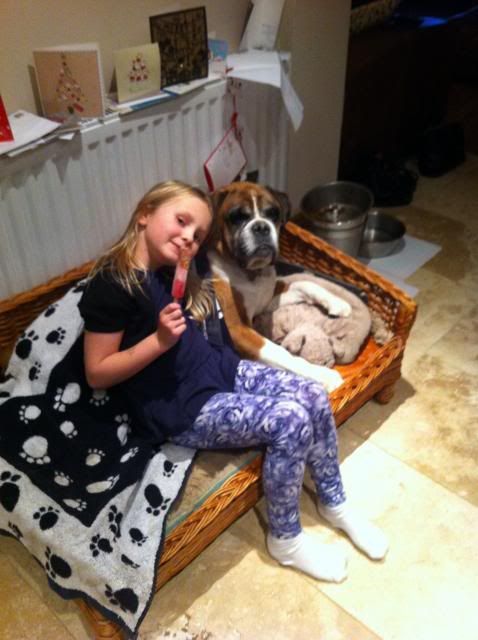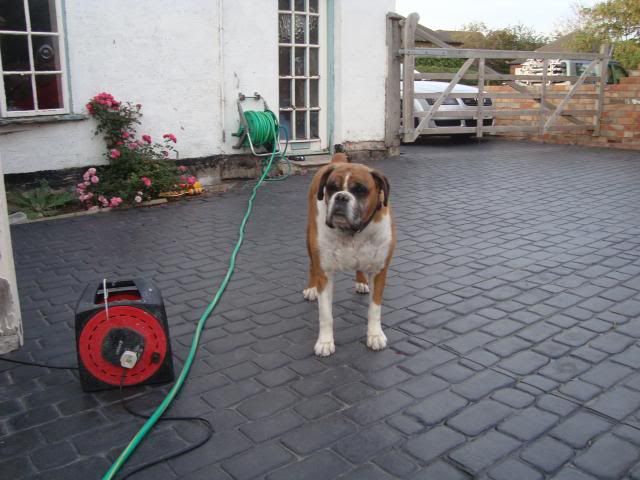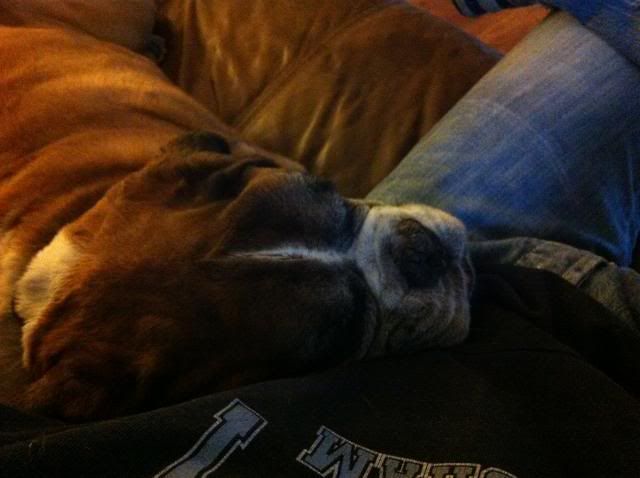 cheers Steve
Pages: [1]