Show Posts
This section allows you to view all posts made by this member. Note that you can only see posts made in areas you currently have access to.
Topics - dspin
Pages: [1]
1
« on: November 03, 2014, 07:54:04 AM »
A
special congrats
to my good friend Andrea - he is too proud me thinks to let everyone know of what he does - SO dspin will - - Andrea is a very well respected member here and he can tell everyone what went on
2
« on: June 12, 2014, 08:32:39 AM »
My next adventure will be trying this. I'm not a fan of cotton balls or Cotton yarn - (P&C from Walmart). Dont like cotton candle wick either. Cotton cheesecloth isnt too bad.
But this sounds better and I shall give it a try. Here is link for those who are interested
Pima Cotton (Supima) is considered the finest cotton in the world. The sliver is long fiber and as smooth as silk.
A sliver (rhymes with diver) is a long bundle of fiber that is generally used to spin yarn. A sliver is created by carding or combing the fiber, which is then drawn into long strips where the fiber is parallel. When sliver is drawn further and given a slight twist, it becomes roving.
NOTE - 1st link removed as they sell clones - new link has now replaced it
NEW LINK For Cottonman - Pima Cotton will now be known as ANGEL HAIR
http://www.cottonman.com/angelhair200mm.html
3
« on: April 23, 2014, 10:08:07 AM »
Well, its not been since Want2Vape tobaccos that I have any others that are excellent. All have been pretenders - IMO until now.
I recently agreed to test Walker Tobacco juices. If CigarBabe had not continually hounded me to do this, for couple months, I still wouldnt have done it.
I was sent three Pipe tobaccos (70 VG/30PG). Soon as I tasted them, I ordered ALL the cigar juices he had. He recommended I try the cigars in 100 VG as thats the solution he used to extract them in. Yes - you heard that right - 100 VG tobacco juices - nice and thick -
FLAVOR - SPOT ON
I received everything he had - EXCELLENT juices, but some are a tad too sweet, so I have some PG nic coming to tone them down a tad. U was going to wait until I adjusted them, but I couldnt - these juices are JUST THAT GREAT. You can order them anyway you want them, though I daresay I would never go below 70 VG. There no point in going into how the throat hit is, how this or that is on the Palette. These are AUTHENTIC - real tobaccos, just try them and you will see. Last time I did a juice review was W2V, usually I dont do these.
These are for
discriminating, connoisseu
r of fine tobaccos
juices are very dark, just the way a real tobacco juice is. Outstanding flavor, vapor, aroma, etc
I just cant say enough good things about these tobacco juices. They will gunk up your coil, so be prepared to change out your cotton more frequently or dry burn your ekowool or mesh.
I would not recommend these juices in anything except RDA's or RBA's I have been using them in drippers - Gryphon and Achilles - also in 2 Prometey's with the filler. All are .9 - 1.1 and they are great
Normally the very best taste one can get from a true tobacco juice is 1.5 - 1.8
Just remember if your going to use these at .3 - .5 - I have no idea how they will do.
Here is what he has for sale::
Pipe Tobacco -
Blackberry Brandy
This is a smooth pipe blend. Blackberry prominent up front and very mild brandy undertones
(this one was a fooler - I usually dont like flavors in my tobacco - an excellent tobacco desert vape for sure)
Easy Times
This is a follow up to my incredibly popular Burley. It's a blend of Kentucky Burley, Louisiana Cavendish, and Perique. This is a smooth vape with the different tobaccos all coming through, and a bit sweet from the VG.
10 Blend
A pipe blend mix of toasted and black cavendish
Ashton Cabinet
This is an Ashton Cabinet cigar extract. A thick vape but mellow cigar taste. Not overpowering or strong. To me it's a spot on fantastic after dinner vape
https://docs.google.com/forms/d/19sUGumpPDvpBbFCGvXP8s1xBYtqOEsAHnWttOOziGXA/viewform
CIGARS - the first two I like the best, but all are just plain excellent
Partagas 1845 Limited Reserve 19961926 Maduro PadronA Fuente Gran ReservaLa Gloria CubanaFuente Opus X 2005Cohiba (Dominican)Cohiba (Genuine)
https://docs.google.com/forms/d/1kBCidjqNpM_rLRJKLKMOjLcJEAFAId35PmYTHRJQBys/viewform
And the new pre-order
Reserva D Chateau
https://docs.google.com/forms/d/1wWCDejuU9oR5nlixJp-9Alrm19LraJZU17qHbI0yYrE/viewform
I hate to say this, wasnt going to say it - BUT - Walker Tobacco Alternatives has outdone W2V. W2V went to 70PG in 2011 and thats no way to make a proper tobacco juice - IMO. W2V is still great, but Walker just jumped over them.
All this and
INTERNATIONAL shipping
too for our friends in Europe
Also on FB -
https://www.facebook.com/groups/WalkerTobaccoAlternatives/
4
« on: April 18, 2014, 09:22:06 AM »
As requested - for those who love Kayfun type atties - Ataman by Titanium mods - coming later this yr.
will include extra steel piece to make it all steel instead of plastic window - which I hate.
6ml capacity - going to be around 120 euros with registered/signed for shipping included in price.
3ml capacity also - not sure if that comes with it yet or not.
Here used with MESH U wick
SET UP
5
« on: April 18, 2014, 08:57:02 AM »
6
« on: March 27, 2014, 07:45:19 AM »
The Elephants Knew
And some will say there is no God,
try and tell that to the elephants.....
THE ELEPHANT'S JOURNEY TO PAY RESPECT,
BUT HOW DID THEY KNOW?
Lawrence Anthony, a legend in South Africa and author of 3 books including the bestseller,
The Elephant Whisperer. He bravely rescued wildlife and rehabilitated elephants all over the globe from human atrocities, including the courageous rescue of Baghdad Zoo animals during US invasion in 2003.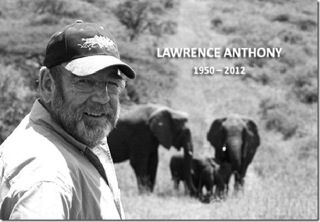 On March 7, 2012 Lawrence Anthony died. He is remembered and missed by his wife, 2 sons, 2 grandsons, and
numerous elephants
. Two days after his passing, the wild elephants showed up at his home led by two large matriarchs. Separate wild herds arrived to say goodbye to their beloved 'man-friend'.
A total of 31 elephants had patiently walked over 12 miles
to get to his South African House
Witnessing this spectacle, humans were obviously in awe not only because of the supreme intelligence and precise timing that these elephants sensed about Lawrence's passing, but also because of the profound memory and emotion the beloved animals evoked in such an organized way:
Walking slowly, for days, making their way in a solemn one-by-one queue from their habitat to his house. Lawrence 's wife, Francoise, was especially touched, knowing that the elephants had not been to his house prior to that day for well over 3 years! But yet they knew where they were going. The elephants obviously wanted to pay their deep respects, honoring their friend who'd saved their lives - so much respect that
they stayed for 2 days 2 nights without eating anything.
Then one morning, they left, making their long journey back home.
SOMETHING IN THE UNIVERSE IS GREATER
AND DEEPER THAN HUMAN INTELLIGENCE.
IN GOD WE TRUST
7
« on: July 18, 2013, 08:08:57 AM »
Anybody who lives in USA knows how far left the News Media is and how slanted they are - here is a great example of them stirring the pot to incite upset and discord
8
« on: May 14, 2013, 11:52:13 AM »
For those who have issues with finding right wire be it, ribbon wire, kanthal, silver wire and also diff grades of mesh - the Mesh company has started a section just for vapers. All can be bought now in one place
http://www.vape-atomizer-mesh.com/
9
« on: April 04, 2013, 11:19:56 AM »
I love this and usually send it out in e-mails over and over every year.
THIS IS A BEAUTIFUL LESSON IN LIFE AND LONGEVITY !!
Be nice to others because . . time WILL make a difference!
One day you will no longer be the big dog..
just the old dog… and it's nice to be surrounded by friends
Pages: [1]